'Salsa On2' - New introductory course
Aim: To break the misconception of On2. Help you to achieve a clearer understanding and feel of On2. Learn to dance and execute your turn patterns with style & confidence
Featuring Leading On2 Specialist
Mambo & Salsa Dance Champion Sai Lee
Suitable for intermediate and advanced salsa dancers either new to On2, or with some experience of On2. Also suitable for those intermediate & advanced dancers who find it difficult to lock onto On2
To avoid disappointment, please book in advance as numbers are limited
and restricted
For further details contact salsaconnexion@aol.com
Price: £12, per session
Registration 2.45pm
Start time 3pm sharp — 5pm finish
On2 dates are as follows:
Sunday 26 November 2006
Sunday 3 December 2006
Sunday 10 December 2006
Sunday 17 December 2006
The Fit Rooms
254-258 North End Road
Fulham,
London
SW6 1NJ
Watch the latest dance show with Sai & Deanne on Saturday 11th September 2005. Dance the night away with the Band Palenke plus DJ Del Salereo.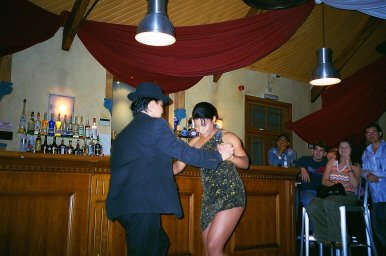 Top Latin DJ Luis Libres' Recommended listining CDs. Find out more...